Happy Wellness Wednesday!
I've often used Wellness Wednesday posts to introduce you to legal professionals who make time for interests outside the law and who are willing to share their thoughts on how those interests relate to lawyer well-being.  I'm thankful for each and every legal professional who has given of their time and humbly humored me throughout these e-terviews.
Today, I'm proud to introduce you to Parker Riehle.
Parker is a Vermonter, a lawyer, and an avid skier.  His latest passion is Get On Snow, a project whose motto captures the essence of Wellness Wednesday:
Get inspired. Be empowered.
Parker was kind enough to spend a day responding to my inanity.  All mistakes are mine.
MK:  Parker, thank you! Tell us about Get On Snow!  What is it? Where'd it come from?
Parker:  I came up with Get On Snow as a call-to-action public awareness campaign and website platform to promote and support the ski industry's efforts at getting new people on skis and snowboards.  Only 3% of the US population skis or rides, but rather than pounding the "take a lesson and learn to ski" message that's so often the focal point of the industry's efforts, the premise for Get On Snow is to promote the lifestyle and health benefits of outdoor winter recreation – the adrenalin, romance, camaraderie, fun, family, friends and freedom of being on the slopes or on a soulful journey through the woods on snowshoes, and of course the après-snow day reward of a glass of wine by the fire or an IPA in the hot tub.
MK:  Great concept!  I like adrenalin, romance, camaraderie, fun, family, friends, IPAs and hot tubs!  Winter, I'm not so sold.  We'll see how this goes.  Ok, where to start?  In law, it seems that the "general practitioner" has gone the way of the rope tow.  So many lawyers focus on a specific area of practice. What about Get On Snow?  Downhill, cross-country, or both?
Parker:  Getting more folks on downhill skis is the over-arching goal, but it's important to give equal footing (pun intended) to snowshoeing and cross-country skiing as those are vastly more affordable, accessible and easier to learn for the never-evers so they can gain confidence on snow before getting them up to the slopes.
MK:  Never-evers! I'm one!  So, how do you get people like me out there?
Parker:  One approach I employ is to leverage pop culture to reach a broader audience where they already have affinity. For example, on the Get On Snow blog, my post 007 On Snow: Shredding, Not Stirred has a little fun with the best (and worst) James Bond movie moments on snow since we know there are hundreds of millions of James Bond fans out there, but only a very small percentage of them ski or ride. With those movies we know they must like action, romance and adventure, so they are perfect candidates to get on snow, and when it comes to après-ski and hot tubs, I think we can agree that, as Carly Simon sang in The Spy Who Loved Me, "nobody does it better" than James Bond!
MK:  Indeed! By the way, I know the advertising rules frown lawyers making qualitative comparisons, but I assume that "Shredding, Not Stirred" won best blog headline of 2019!  Ok . . . so many questions, but I think we were just summoned to the bench for a sidebar.
In legal ethics, conflicts of interest are a thing.  Lest anyone accuse us of not providing enough information to make an informed decision about continuing to read this interview, and to avoid even an appearance of impropriety, let's disclose a potential conflict: we went to high school together.  It does not violate the lawyer advertising rules for us to say that we are two of South Burlington High School's . . . . graduates.  Like 007, our adventures included action and failed romances.  Is there an adventure you can recall that's fit to post?
Parker:  Though the statute of limitations has likely safely run on most of the shenanigans we might admit to, including a highly questionable Key Club junket to Hyannis, Massachusetts and summertime misadventures on Lake Champlain, the most notable actually involve blind-side collisions with different impacts; there was the new-driver, rookie-move lane change I made on our way to a party at Cliffside Park that crumpled the side of my Mom's car – though we survived without a scratch I was sure she would kill me, but she was incredibly cool about it. The other event was the perfect crack block you laid on me that I never saw coming during football practice one day – I might have had 80 pounds on you but you knocked me right on my ass along with a significant blow to my ego!
MK:  I'd vote for our misadventure involving an evacuation by boat, but my mom reads this blog and her statute of limitations never runs.  So, I'll go with that block at practice.  Now, back to Get On Snow.
In professional responsibility, the very first rule requires competence. Last year, the Court made it clear that well-being is an aspect of competence. As I mentioned, winter isn't my jam.  One reason might be that I'm utterly incompetent at skiing.  It seems like Get On Snow is sort of the opposite of an attorney's duty of competence.  That is, your message is that bumblers like me need to get out there and try, if only to improve our mindset and well-being.   Fair statement?
Parker: Absolutely – although "competence" isn't typically used in conversation with me, the well-being benefits to the mind and body from getting outside in winter are endless. And just like easy walking and occasional jogging can be someone's introduction to your world of marathon races, snow sports are also all about progression and aspiration. Anybody can try snowshoeing in a park or nearby golf course to get their footing on snow, followed by an introduction to cross-country skiing to get the feeling of something more slippery underfoot. Think of it as a closely supervised title search before moving on to a closely supervised jury selection. Before you know it, you'll be ready to try the slopes, which is like moving up to the full-on nirvana experience of living an entire episode of Matlock or Bull.
MK:  What's the reception been so far?
Parker:  Get On Snow is relatively new after launching publicly at the Boston Ski Show last November, but the reception and feedback from the industry and the public alike have been overwhelming because it's all about pushing the lifestyle and bringing sexy back. Now, we certainly want newbies to take a lesson or, as in that epic South Park episode, "you're gonna have a bad time," but leading with that message isn't exactly going to get folks excited – it sounds boring and intimidating and the human condition isn't readily receptive to going back to school for anything.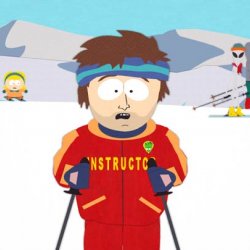 MK:  South Park & Bringing Sexy Back . . you weren't kidding about pop culture.  I love it! By the way, I can totally relate to boring, intimidating, and the South Park instructor.  All three come to mind whenever I give a seminar on trust accounting: "Didn't reconcile?  You're gonna have a bad time!"  
You've had much success outside the traditional "lawyer track."  What are some of the things you learned as a lawyer that have helped you in other jobs?
Parker: Because law school really forces you to ask the "why" and not just the "what" behind statutes and jurisprudence, it's an incredibly invaluable education for public policy which has been the basis for most of my career since switching from insurance defense litigation to lobbying in 1998 when I was first hired by the Vermont Ski Areas Association as Governmental Affairs Director. Although you don't need to be a lawyer to be a lobbyist, there's no question that being a lawyer is a formidable advantage for working with legislative and regulatory issues, and I've always found it to be incredibly more enjoyable and rewarding to shape statutory law at the State House rather than case law at the courthouse. In addition, being a lawyer was invaluable for dealing with in-house legal issues at Ski Vermont like association bylaws and copyright & trademark issues and enabled me to have an expansive role with Governor Jim Douglas in his first term as policy advisor, legislative liaison and legal counsel.  It's also been an advantage as a Commissioner on the Act 250 – District 4 Commission where I've proudly served since 2009.
MK:  Good stuff.  Plus, at the State House, you got to meet Vermonter and Olympic Medalist, Hannah Kearney.
Let me flip the question:  are there any aspects of you that exist only by virtue of having been a lawyer and that make you think "damn! I wish I never knew this! I'd be so much better at what I do if I didn't!"  (not that I'm saying you need to be better at what you do!)
Parker:  Although I've never wished for the Men In Black Neuralyzer flash pen for any of my legal education, I have always noticed that non-lawyers seem to assume that being a lawyer means you can't possibly be creative since apparently all lawyers are passionless robots. So, when it came to the myriad creative decisions as President of Ski Vermont, I often downplayed the lawyer bit and put myself more in the mode of my creative writing major at Hamilton College.
MK:  I've done the same! I downplay the "I'm a lawyer" angle and focus on letting non-lawyers know that I was a high school basketball coach. It's sad that we do that. One of my goals in interviewing people like you is to show non-lawyers that "we are fun people too!"  Another is to convince lawyers that it's ok to have fun doing non-lawyerly things, even if those things disabuse others of the notion that we're passionless robots.
As for Men In Black, we won't wipe your memory of your legal education.  But, if not the Neuralyzer, what's the one fictional/pop culture prop that you wish you could use for yourself – whether now, or at any point since your first day of law school?
Parker:  Definitely the Star Trek transporter so I can beam myself wherever I want to go. Whether a cross-country flight, a four-hour drive or back to the top of the mountain, I'm an impatient traveler so that would be a nice way to go.
MK:  I like it! I once had a Supreme Court argument in which I argued that "unless we disbar this lawyer, we are no different than The Emperor With No Clothes."  A justice asked "Mr. Kennedy, are you picturing us naked?"   Ummm, talk about trouble with tribbles and needing a transporter!  Was there ever a moment in your legal career that you desperately wanted to radio Scotty to beam you up?
Parker:  That question from the Supremes might give you grounds for an emotional distress claim!  Probably the most beam-me-up moments I've had were during my very first years in private practice in Los Angeles since I had absolutely no idea what I was doing and the legal scene there is incredibly intense – I mean judges who were spitting fire in anger over pretty mundane procedural matters and opposing counsel who were nothing like Jimmy Smits in L.A. Law. One day I had a court appearance in San Diego so I thought I'd be metro-hip and take the train, which of course broke down along the way. No cell phones yet but I was able to at least notify the Court with an onboard pay phone and spent the rest of the ordeal bracing for what would surely be instant disbarment or dismemberment at the hands of the waiting judge.
Well it turns out San Diego lawyers and judges are much less intense than the L.A. kind and the reception I got as I hurried into the courtroom couldn't have been more welcoming and understanding – of course opposing counsel was getting paid by the hour so he was doubly cool with it, but the judge couldn't have been nicer about it.
MK: Kudos to the San Diego County Bar Association! I blog & speak often on civility.  Like sexy, we need to bring civility back!
Your blog post First Chair (or T-bar) '73 includes a fantastic picture of you skiing with your brother when you were very young.  So, you've always been a skier. When did you realize you wanted to go to law school?
Parker: I vividly recall making a very quick decision about it my senior spring at Hamilton College when one of my roommates got into Cornell Law School and I didn't have any meaningful employment lined up at that point in the semester. I knew there was no way I'd get into business school with my very low mathematical acumen and I viewed law school as more of a business degree for creative writing majors who didn't want to starve for a living and which would provide lots of employment options outside the traditional practice of law, as my career would later play out. I was very fortunate to get accepted to Vermont Law School where I had a great experience after working on the campaign trail and in Washington, D.C. for Vermont Congressman Peter Smith.
MK:  Sounds familiar.  My dad, who you know, convinced me that employers would value a liberal arts degree more than a business degree.  So, like you, I ended up in law school.  Ok, I'll start to wrap things up.  Not to put you on the spot, and knowing that you used to work at Ski Vermont, your 3 favorite places to ski are?
Parker: It's virtually impossible to pick just three but I'll go with Stowe, Sugarbush and Magic Mountain in Vermont; outside Vermont: Steamboat, Alta and Squaw Valley – but I love them all!
MK:  The paparazzi caught you in action on Perry Merrill at Stowe:
MK:   I know you love to ski with your wife & kids.  However, not counting your family, if you could ski with any 3 skiers from history, who would you choose? (I'm not sure why I chose 3. I confess, I don't know how many skiers can fit on a lift or in a gondola.)
Parker:  Great question! I'd rather go with the Jay Peak Tram to fit all my heroes, but joining me on the quad chair I'll go with Billy Kidd, Stein Eriksen and Donna Weinbrecht, though there's no way I'd keep up with Donna in the moguls!
 MK: Parker, thank you so much for doing this. You're a shining example of an attorney who not only understands well-being, but who is working to improve the well-being of others.  The Get On Snow mission to inspire others to inspire and empower themselves is inspiring.  It might even get me out there!
Get inspired. Be empowered.
************************
Related Wellness Wednesday "Meet ______" Posts:
Also, before I ever imagined a "Wellness Wednesday" column, Elizabeth Kruska & Wesley Lawrence were kind enough to take the time to discuss their interest in horse racing, Scott Mapes talked soccer with me, and many lawyers & judges shared their marathon stories.