Blogger's note: warning – this post includes paltering.
Welcome to #137!
Another week, another failure on my part to connect the intro to the number.  But this week I have an excuse.  Given my plans for the weekend, I'm compelled to share the story of my college football injury.
That's right – college football injury. Not many people can say they have one.  Even fewer who played high school football in Vermont can.  I'm one of the few.
College football is my favorite sport.  Clemson is my favorite college football team. Tomorrow night, the undefeated Clemson Tigers play at Boston College in a match-up between the 2nd and 17th ranked teams in the nation.  I'll be there.
While now a Clemson fan, there was a time when I loved the Boston College Eagles football team like it was my job.  Because, it was my job.
I've often mentioned that I did my undergrad at UVM.  Paltering!  The truth is that I transferred to UVM in the middle of my sophomore year, transferred from Boston College.
I didn't decide where to attend college until November of my senior year of high school.  The day before Thanksgiving, I visited BC.  At the time, the BC football team was enjoying its best season in decades, led by eventual Heisman Trophy winner Doug Flutie.  That week, the Eagles were ranked 10th in the nation and scheduled to face #12 Miami on the day after Thanksgiving.  While it was a road game, the hoopla and anticipation were beyond description.  As the kids would say today, on the day of my visit, campus was lit.
I watched the game back home.  It turned out to be one of the most iconic games in college football history, with Flutie's miraculous Hail Mary winning the game in stunning fashion on the final play: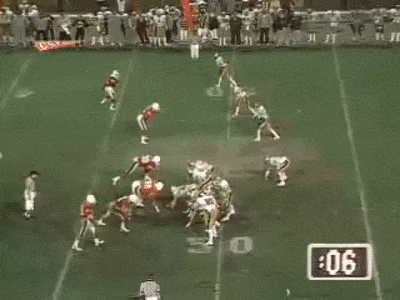 Between the excitement on campus and the result of the game, I was sold.  BC it was!
Fast forward to my first few days on campus.  Part of my financial aid package was "work-study,"  which means I had to get a job.  Scanning the list of available work-study positions, one jumped out at me: a job with the football team.  Given the mania (still) surrounding the football team, I assumed it'd be filled before I could walk to the stadium to apply.
I was wrong. I got the job. One of the best jobs of my life.
It involved a variety of grunt work, but included pay, meals, free entry to the games, and a spot on the sidelines.  The only drawback? It caused my college football injury.
My sophomore year, BC had a good season and was invited to play in the Hall of Fame Bowl in Tampa.  It was a fantastic game.  My college football injury almost left me to watch it from the hotel, but I gamely made it to the stadium.
Back then, I was what I remain today: a pale-skinned Irish dude. So, a few weeks before we left for Tampa, I decided it'd be wise to tan.  Need a base before I hit beach!
It worked.  Sort of.  5 or 6 trips to the tanning salon later, I was no longer a pale-skinned Irish dude.
I was a bright red Irish dude who'd foolishly burned himself silly.
I'm not exaggerating.  The day we left for Florida, I woke up in extreme distress, with "sun" burn everywhere.  It was so bad that on the flight to the bowl game, the team's medical staff stripped me of my clothes, laid me across 3 seats, and covered me in wet towels.  Once in Tampa, it was more of the same. I didn't leave the hotel room until the night of the game.  I heard the beaches were great.
This weekend, I doubt I'll bump into anyone who'd remember me from back then. But, per chance I do, and per chance that person says "hey, aren't you the guy who . . ."  I'll quickly interrupt and finish the sentence with:
"had a college football injury? Yes. Yes I am."
Paltering lives!
Onto the quiz!
Rules
None.  Open book, open search engine, text/phone/email-a-friend.
Exception – but one that is loosely enforced – #5 ("loosely" = "aspirational")
Unless stated otherwise, the Vermont Rules of Professional Conduct apply
Team entries welcome, creative team names even more welcome.
E-mail answers to michael.kennedy@

vermont.gov

I'll post the answers & Honor Roll on Monday
Please don't use the "comment" feature to post your answers
Please consider sharing the quiz with friends & colleagues
Please consider sharing the quiz on social media.  Hashtag it – #fiveforfriday
Question 1
Lawyer called me with an inquiry. I listened, then said: "the rule says that your first duty is to try to maintain as normal an attorney-client relationship as possible."
Given my statement, it's most likely that Lawyer called out of concern that:
A.  Lawyer's client suffered from a diminished capacity
B.  Lawyer's client had presented false evidence to a tribunal
C.  Lawyer's client had used Lawyer's services to perpetuate a fraud
D.  Lawyer's client had given false testimony in a deposition.
Question 2
Which is associated with a different rule or set of rules than the others?
A.  Commingling
B.   Qualitative Comparisons
C.   Disbursements
D.  Held in connection with a representation
Question 3
As in all cases, the rules prohibit unreasonable fees in divorces & criminal cases.
With respect to fees, the rules also prohibit something else in divorces and criminal cases.
What is it?
Question 4
Prospective Client meets with you.  Prospective Client indicates that Lawyer represents her, but that she wants a second opinion from you.
True or False:  the rules prohibit you from discussing the matter with Prospective Client absent Lawyer's consent.
Question 5
Speaking of the Heisman Trophy . . .
. . .in 1962, President Kennedy nominated Byron White to the United States Supreme Court.  Justice White served until 1993, with Justice Ruth Bader Ginsburg replacing White upon his retirement.
25 years before being appointed to the Supreme Court, Justice White finished 2nd in the Heisman Trophy voting. He was an outstanding running back for the University of Colorado.  He's the only US Supreme Court justice who also received votes in the Heisman race.
Justice White's football skills resulted in a famous nickname.
What's the nickname?